Op-Smart's comprehensive Manufacturing management system improves profitability, reduces business risk, streamlines customer service, and enhances quality – shaping your employee culture with accountability to targeted performance at every organizational level!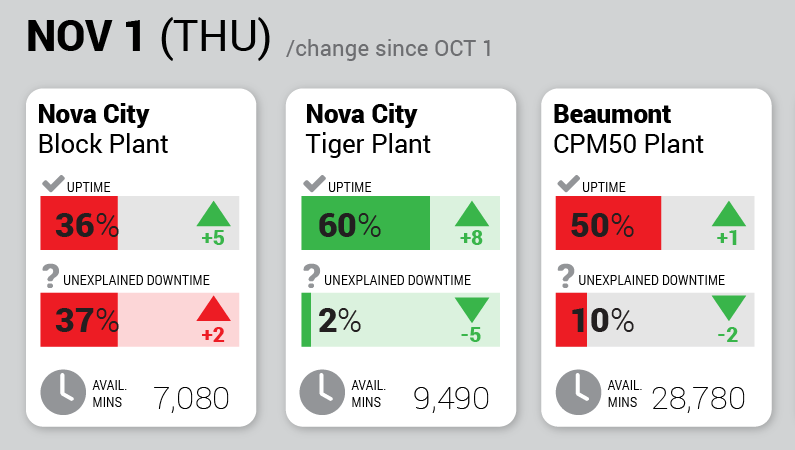 Data-driven analytics provide roadmap for your operating focus on "what happened" and "how to improve".
Productivity Improvement from 5-28% - and with optional enrollment in the Op-Smart Improvement Plan*, performance improvement is guaranteed.
*Op-Smart Improvement Plan: A coordinated assistance program with Op-Smart setting up planning and scheduling and then participating in your shop-floor daily meetings and monthly management reviews.
Accountability at all levels: Data from shop floor to C-suite in real time provides awareness of actual performance to all levels.
Reduced Business Risk: Op-Smart "has your back" – real-time management lets you know that operations are at their best.
Streamlined Customer Service: Automated shop floor scheduling and real-time re-scheduling lets you respond in record time!
Enhanced Quality: With every product being recorded, quality metric memorialization keeps you aware and agile, and letting you focus on priorities.
Why Op-Smart
Is Different
Any equipment - No matter what equipment you use Op-Smart provides automated management.
Eliminate silos - Op-Smart's comprehensive management system eliminates the silos between the shop floor, ERP, maintenance, and reporting.
All the data - Op-Smart gives you all the little data needed to let you drive the big engine – the driving is only as good as the weakest data link, and we have them all covered!
Transparency - Easy-to-use tools that allow all organizational levels to improve together.

Contact us to learn more...